Description

Product Reviews

Ingredients

Manufacturer Info
Nordic Naturals DHA Jr Xtra - 90 soft gels
Nordic Naturals DHA Jr. Xtra is a pharmaceutical grade omega-3 DHA fish oil supplement to support brain development, nervous system, eyes and immune system. These mini, berry-punch-flavored soft gels are easy to swallow and tasty to chew, ensuring kids with love their daily serving of DHA.
Concentrated omega-3 DHA support for overall cognitive development
Supports healthy brain and nervous system development
Supports visual development
Promotes learning and language.
Great for ages 3 and over
Berry flavor
Pharmaceutical grade
Non-GMO Verified
True Triglyceride - Better Absorption
Every batch of Nordic Naturals fish oils is tested by a third-party certified lab for environmental toxins, including heavy metals. All fish oils are in the triglyceride form and surpass the strictest international standards for purity and freshness.
Recommended Use:
Children Ages 3 and over: Three soft gels daily, with food, or as directed by your healthcare professional or pharmacist. Soft gels can be chewed or swallowed. Use only for children 3 years old and over.
Warning:
Not for pets, contains xylitol. Consult with your physician before using this product if you are allergic to iodine, use blood thinners, or anticipate surgery. Keep out of the reach of children.
* These statements have not been evaluated by the Food and Drug Administration. This product is not intended to diagnose, treat, cure, or prevent any disease.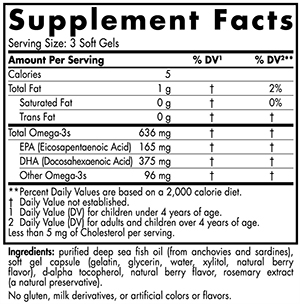 Suggested Use: Three soft gels daily, with food, or as directed by your health care professional or pharmacist.
At Nordic Naturals we believe that omega oils are essential to life. By correcting the global omega-3 deficiency, we give each generation what they need to grow healthy and strong. Through science and innovation, we are committed to delivering the world's safest, most effective omega oils.